About Us
Contents
At Professional Planning Group, we believe that a plan is a powerful tool. Pursuing your long-term financial objectives hinges on having the appropriate plan -- one that fits your unique circumstances and grows with you. Planning your financial future can be a daunting task. That's where Professional Planning Group comes in. We're trained, registered professionals, and we can draw on years of financial planning experience when creating a long-term strategy. Whether your concern is paying too much in taxes or not having enough money to last throughout your retirement, we can help you.
Please call today if you think your plan is out-of-date. Most people need to update their financial plan each year to help ensure that it is in step with their life. If it's been a while, act today.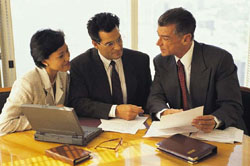 We serve individuals and businesses in all areas of financial management, including:
Retirement planning



Making the most of your employer-sponsored retirement plans and IRAs. Determining how much you need to retire comfortably. Managing assets before and during retirement.



Estate Planning*



Helping with strategies to preserve your estate for your intended heirs. Potentially reducing exposure to estate taxes and probate costs. Coordinating with tax and legal advisors.




Insurance Planning



Reviewing existing insurance policies. Recommending policy changes when appropriate. Finding the appropriate policy for your situation.




Education funding



Recommending investment and accumulation strategies to help you pay for your children's education.




Investment Planning



Determining your asset allocation needs. Helping you understand your risk tolerance. Recommending appropriate investment vehicles to help you pursue your goals.




Employee and executive benefits



Helping your business attract and retain qualified employees through benefit packages.
Rick Anthony, Branch Manager
Rick Anthony founded Professional Planning Group, LLC. in 2012 and has been passionately providing excellent financial services to his clients ever since. Rick created a business model for PPG driven by a high level of personal service given at a lower cost basis. Utilizing this system, Rick turned Professional Planning Group into a thriving practice.
Born and raised in upstate NY, Rick graduated from SUNY Geneseo and has over 25 years of industry experience. Rick not only uses his knowledge and experience to provide the best service for his clients, he also offers training tools and coaching services to young financial professionals eager to make their mark in the industry.
Rick is experienced at public speaking to audiences varying in size and stature.
A lover of sports, Rick played Rugby in college and currently plays in a softball league with a few collegues in his free time.
Gary Barkman MS, CFP®
A lifetime resident of upstate NY, Gary Barkman was raised in Greenville, NY and has lived in the town of Bethlehem on and near Barkman Farms for 40 years.
A graduate of the State University at Albany, Gary has been securities registered since 1984, a Certified Financial Planner professional since 1992, and has held the Masters of Science designation since 1997.
Gary provides investment management services to affluent families and trusts, as well as retirement planning to small businesses. New clients must have portfolio assets in excess of 1 million dollars and are often referred through their attorney or CPA.
As a member of Bugles Across America, a national volunteer organization, Gary performs Taps for veterans' funerals and military memorials at over 50 events a year.
Therese Shean, LUTCF
A lifetime resident of the Capital District, Therese Shean is a graduate of SUNY Oswego.
Therese holds the LUTCF® designation and is a licensed insurance broker.
With 33 years of experience as an investment advisor representative, she had focused on financial planning for both individuals and small businesses. In 2016, Therese joined Professional Planning Group and assumed the role of Operations Manager.
Therese is a Registered Assistant of Cetera Advisor Networks LLC, member FINRA/SIPC.
Michael Shapiro, MBA, Senior Wealth Manager
Michael Shapiro has provided financial services for over 20 years. Michael approaches his clients' financial situations from a wide angle in order to provide a more comprehensive answer to their unique needs and objectives.
Securities and insurance licensed in multiple states, Michael is able to work with individuals nationwide.
Michael holds multiple college degrees including an MBA from New York University, an MA from the Monterey Institute of Foreign Studies, and a BA from Bard College.
Prior to joining the financial services industry, Michael was a business owner/operator and worked in advertising.
Michelle Peterson, MS, CFP®, Senior Wealth Manager
Michelle Peterson has 25 years of experience as a financial advisor. A graduate of the Rochester Institute of Technology, she has been a Certified Financial Planner professional since 2003. She also has held the MS, CFP® designation since 2009.
Michelle's practice focuses on retirement planning for current and retired health care professionals in upstate NY. Working closely with her clients' attorneys and CPAs she designs and monitors retirement portfolios for income needs along with tax management strategies and estate planning.
Stephen Peer, Advisor
Stephen Peer was born and raised in Massena, NY.
Stephen attended the State University of Albany earning a Bachelor of Science degree in Business Administration, as well as a Bachelor of Arts in American History.
Stephen has been a financial advisor since 1981.
He is an active participant of the Colonie High School Athletics Booster Club.
Professional Planning Group offers clients an impressive depth of experience in investment planning, insurance, and estate planning.
All financial advisors hold a variety of professional designations and are well versed in a number of financial disciplines. Our combined education and experience position us to offer broad-based financial advice that our clients can trust.
To meet with a financial advisor, contact us today.
*For a comprehensive review of your personal situation, always consult with a tax or legal advisor. Neither Cetera Advisor Networks LLC nor any of its representatives may give legal or tax advice.
Listed below are links to web sites that may be of interest to you. Feel free to visit these web sites.
First Choice Professional Services, Inc. - First Choice Professional Services, Inc. offers a range of accounting and tax services for both individuals and businesses. if you believe you would benefit from the services of an experienced tax professional, you are encouraged to contact First Choice at (518) 842-2575 or visit their website by clicking here: http://www.fcprosvc.com/index.php.
*Neither Professional Planning Group nor Cetera Advisor Networks LLC are affiliated with or endorsed by First Choice Professional Services, Inc.
PLEASE NOTE: The information being provided is strictly as a courtesy. When you link to any of the web sites provided here, you are leaving this web site. We make no representation as to the completeness or accuracy of information provided at these web sites. Nor is the company liable for any direct or indirect technical or system issues or any consequences arising out of your access to or your use of third-party technologies, web sites, information and programs made available through this web site. When you access one of these web sites, you are leaving our web site and assume total responsibility and risk for your use of the web sites you are linking to.