About Us
Contents
At Professional Planning Group, we believe that a plan is a powerful tool. Reaching your long-term financial objectives hinges on having the right plan -- one that fits your unique circumstances and grows with you. Planning your financial future can be a daunting task. That's where Professional Planning Group comes in. We're trained, licensed professionals, and we can draw on years of financial planning experience when creating a long-term strategy. Whether your concern is paying too much in taxes or not having enough money to last throughout your retirement, we can help you.
Please call today if you think your plan is out-of-date. Most people need to update their financial plan each year to help ensure that it is in step with their life. If it's been a while, act today.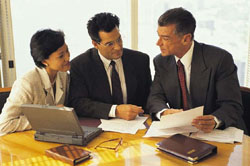 We serve individuals and businesses in all areas of financial management, including:
Retirement planning



Making the most of your employer-sponsored retirement plans and IRAs. Determining how much you need to retire comfortably. Managing assets before and during retirement.



Estate Planning



Helping with strategies to preserve your estate for your intended heirs. Potentially reducing exposure to estate taxes and probate costs. Coordinating with tax and legal advisors.




Insurance Planning



Reviewing existing insurance policies. Recommending policy changes when appropriate. Finding the best policy for your situation.




Education funding



Recommending investment and accumulation strategies to help you pay for your children's education.




Investment Planning



Determining your asset allocation needs. Helping you understand your risk tolerance. Recommending appropriate investment vehicles to help you reach your goals.




Employee and executive benefits



Helping your business attract and retain qualified employees through benefit packages.
Professional Planning Group offers clients an impressive depth of experience in investment planning, insurance, and estate planning.
All financial advisors hold a variety of professional designations and are well versed in a number of financial disciplines. Our combined education and experience position us to offer broad-based financial advice that our clients can trust.
To meet with a financial advisor, contact us today.
Listed below are links to web sites that may be of interest to you. Feel free to visit these web sites.
First Choice Professional Services, Inc. - First Choice Professional Services, Inc. offers a range of accounting and tax services for both individuals and businesses. if you believe you would benefit from the services of an experienced tax professional, you are encouraged to contact First Choice at (518) 842-2575 or visit their website by clicking here: http://www.fcprosvc.com/index.php
PLEASE NOTE: The information being provided is strictly as a courtesy. When you link to any of the web sites provided here, you are leaving this web site. We make no representation as to the completeness or accuracy of information provided at these web sites. Nor is the company liable for any direct or indirect technical or system issues or any consequences arising out of your access to or your use of third-party technologies, web sites, information and programs made available through this web site. When you access one of these web sites, you are leaving our web site and assume total responsibility and risk for your use of the web sites you are linking to.